Style editor
In this article, we will explain how you can change the style of the road map.
 
Vector tiles are a technology that allows you to customize the style of a background map. This style is made up of a series of style rules that define the colours and display modes of the different themes (vegetation, roads, buildings, etc.) and texts. The vector tiles also allow you to choose the content of the map.
In the following, we will explain in more detail how the style editor works.
  
The starting point for making style changes is the default style of our road map on map.geoportail.lu. By clicking on "Reset style", you can always return to this default display.
You can change the style in the edit menu, which opens by clicking on the brush.   
In this menu, you have the choice between 3 editing modes:
CHOOSE A PREDEFINED STYLE
CHANGE MAIN COLOURS
ADVANCED SETTINGS
CHOOSE A PREDEFINED STYLE
This editing mode provides you with a list of predefined colour palettes, which you can use to colour the map.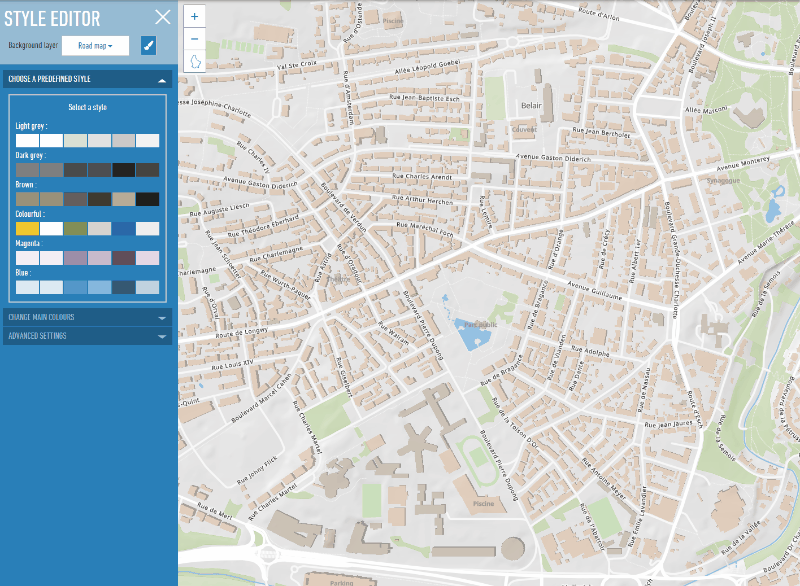 From these predefined styles, you can also choose one that suits you and use it for your own creations in the "Change main colours" and "Advanced settings" edit modes.
CHANGE MAIN COLOURS
The "Change main colours" mode allows you to select an individual colour by theme. You can also activate or deactivate a theme by checking the box. In addition, you can activate the terrain in the form of a relief.
Here you can choose the colours as you wish.


ADVANCED SETTINGS
The "Advanced settings" mode allows you to adapt the style of your map
without restrictions. By using the external style editor Maputnik (https://maputnik.github.io/), you can make any kind of changes. When you're done editing, you can upload your style.